My NATO trip to Europe and Afghanistan
During the Memorial Day recess, I traveled to Germany, Turkey, and Afghanistan as part of an official North Atlantic Treaty Organization Parliamentary Assembly (NATO-PA) diplomatic mission representing the United States.
I traveled with fellow Arkansas representatives Mike Ross and John Boozman, as well several other members of Congress to get a first-hand look at the progress our nation's military and NATO forces are making in the ongoing war against terrorism and in rebuilding efforts in Afghanistan.
During our trip we visited American troops at Incirlik Air Base in Turkey and received a briefing from General David Petraeus, Commanding General of the Multi-National Force in Iraq, on the current situation in Iraq.
In addition, we met with President Hamid Karzai of Afghanistan; General Dan McNeill, Commander of the International Security Assistance Force in Afghanistan; Major General Robert Cone, Commanding General in charge of Afghan National Army and Police Training; and U.S. Ambassador to Afghanistan William Wood.
I believe we must have solidarity among our allies in the global community to have peace and security in Afghanistan and the Middle East. Our troops have done an outstanding job standing on the front lines in the fight against terrorism and this visit allowed me to personally express our gratitude for their service to our country.
Although this visit was during the Memorial Day recess, we should never lose sight of our mission to support our troops with all the resources they need while serving our country and do everything in our power to bring them home safely as honored veterans.
The NATO-PA has been in existence since 1955 to build support for the NATO Alliance within the national legislatures and to provide recommendations to the Secretary General of NATO and the North Atlantic Council. It also provides a way for legislators in member countries to influence reform and stay informed about changes in NATO and about military reforms in the 16 associate countries.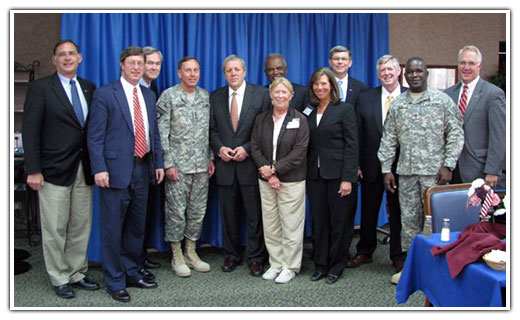 This is a photo of fellow Members meeting with General David Petraeus, Commanding General of the Multi-National Force in Iraq and Command Sergeant Major, Marvin L. Hill from Blytheville, Arkansas.